About Meira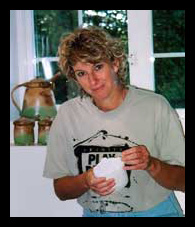 Canadian potter Meira Mathison has maintained a studio, Dancerwood Pottery, in Victoria, B.C. for over 30 years. For the past 28 years she has conducted workshops in Canada, U.S.A., England and Mexico. Meira sells her unique high-fired altered porcelain through galleries in Canada and the US.

Meira's work is thrown, altered, manipulated and sprigged with coloured clay impressions. She uses thick slips and a multitude of sprayed glazes to highlight the form. Her work reflects her environment , the westcoast rainforest and her travels to the desert in Nevada. Much of her work is "contained", a reflection of her close family ties with her daughters.

Meira's work has been featured in "Clay and Glazes" by Daniel Rhodes; "500 Bowls", "500 Cups","500 T-Pots","500 Pitchers" by Lark Publication; "Pots in the Kitchen" by Josie Walter, "Making Marks"and "Ceramic Spectrum" by Robin Hopper, "The Spirit of Ceramic Design" by Robert Pipenburg and "The T-Pot Book" by Steve Woodhead.
Artist Statement

"I love what I do!". Whether it is making a pot, discussing art vs craft with other artists or teaching techniques to people just discovering clay or stretching their abilities. I love it all. My pots reflect my life – ever changing, nothing is static; a life full with colour, fun, pushing the limits and challenging the day-to-day. Clay is a large part of my life and my passion.

The program that has given me the most enjoyment and satisfaction is my mentoring program. I have worked with a group of women for about eight years. These were my students who wanted to continue making clay but needed less technique more ideas. We meet once a week and I set up challenges and projects for them. This is followed by very active critiques and lively discussions on form, glaze and direction. The growth in this group has been phenomenal. These students now show in galleries, are successful in their sales and innovative in their designs. They have also become my best friends and a support group for each other.